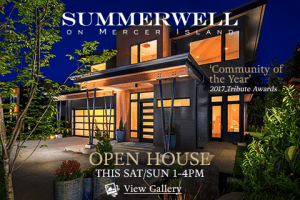 These beautiful real estate advertising ads were designed by one of Seattle's best graphic designers, Bryce Bernard, for our luxury real estate client Summerwell Homes.
New Year, New Home!
Imagine starting the new year in an award-winning luxury new home community just minutes from the city!
o Summerwell's 16 homes, designed by renowned McCullough Architects, reflect a contemporary design aesthetic with clean lines, open spaces, dramatic interior lighting from sensitive window placement, and a decidedly upscale palette of materials, fixtures, fit, and finishes.
o They are eco-friendly and SMART designed, featuring wiring for a 240-volt rapid car charger for electric cars; an interface that allows the home owner to readily connect a generator, power wall, or solar panels into the homes circuit system; a SMART center that contains CAT 6 wiring for all audio, security, Wi-Fi, fire alarms, and any other desired electronic or communications systems.
o The development plat was designed by local landscape artist Thomas Rengstorf to preserve various landmark trees. In addition to tree conservation areas on the west slope and the north end of the main rain garden, the neighborhood features 18 original specimen trees have been replanted on the property, many around the Koi Pond.
o The landscape design at Summerwell facilitates opportunities for neighbors to connect without compromising the privacy of each home. A landscape buffer and greenbelt surround the entire five-acre community, and upper Luther Burbank Park can be entered from across the street.
o Overall, approximately 70% of the original estate was salvaged and repurposed, with the Japanese-designed Shinzuka Bubinga wood truss system donated to become part of the new Mercer Island Center for the Arts.
o To date seven homes have sold, and there is currently one home available for immediate occupancy (Homesite 15). The remaining eight homes are available for presale with delivery dates expected from June 2018 – February 2019. More information can be found at http://www.summerwellhomes.com.
This month, as part of their real estate advertising, here is a $50,000 BUYER BONUS! Receive a $50,000 buyer bonus towards upgrades for completed homesite 15*.*Buyer must be in contract on or before 01/31/2018 in order to be eligible! Program applies ONLY to homesite 15 at Summerwell. Does not apply to any other homesites. For Buyer Bonus details visit http://summerwellhomes.com/lot-15-buyer-bonus-2018/.