So you've thought about advertising on Pandora Radio, but you're not sure where to start. You've landed on the right page because we're experts at buying Pandora advertising, and we've bought so much of their inventory over the years we can give you the inside scoop on how to make Pandora Radio advertising work. You might be considering traditional Radio, too. Many people who start researching advertising on the Radio, end up finding Pandora and wonder about the differences between conventional Broadcast Radio and Pandora Digital Radio. This blog will show you the differences between Pandora Radio and Traditional Radio. We hope you find it helpful, and we'd love to talk with you to discuss the right media option for your business. There are reasons to choose one or the other depending on your business needs, and we're professional media buyers ready to help you walk through that decision-making process.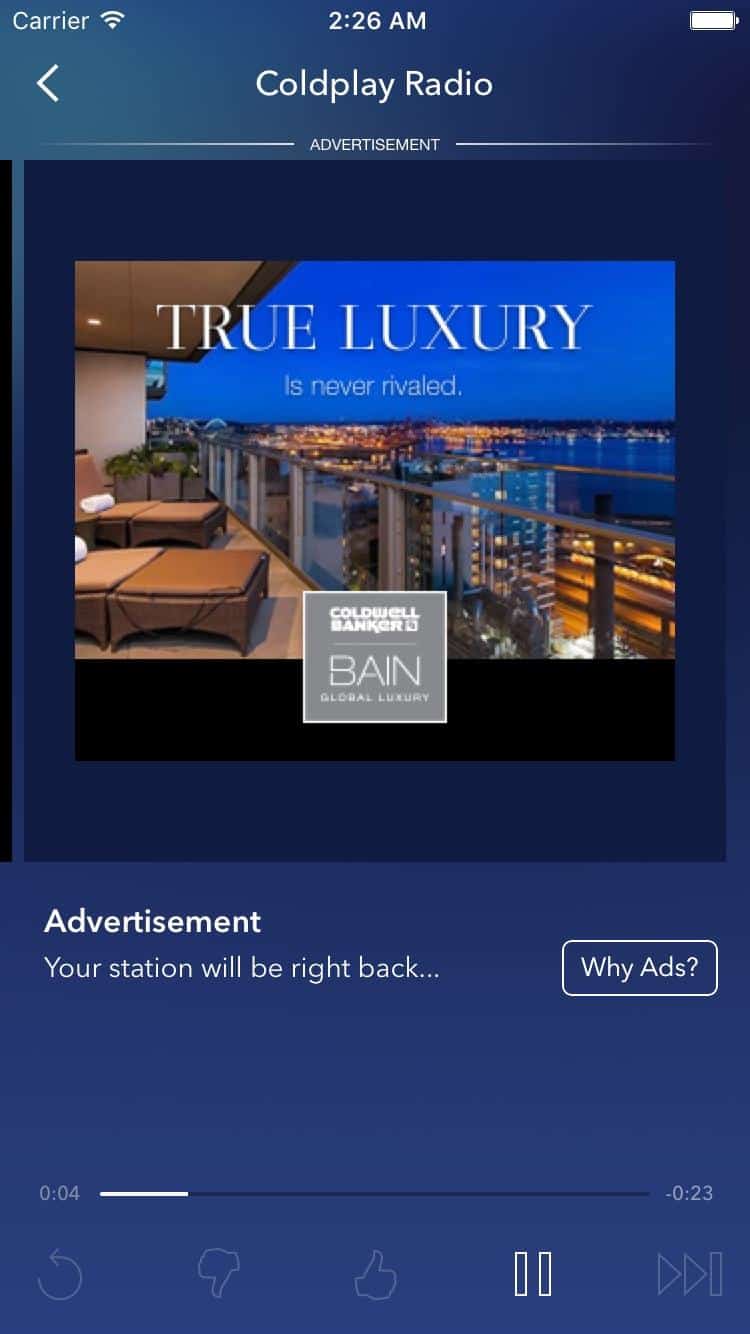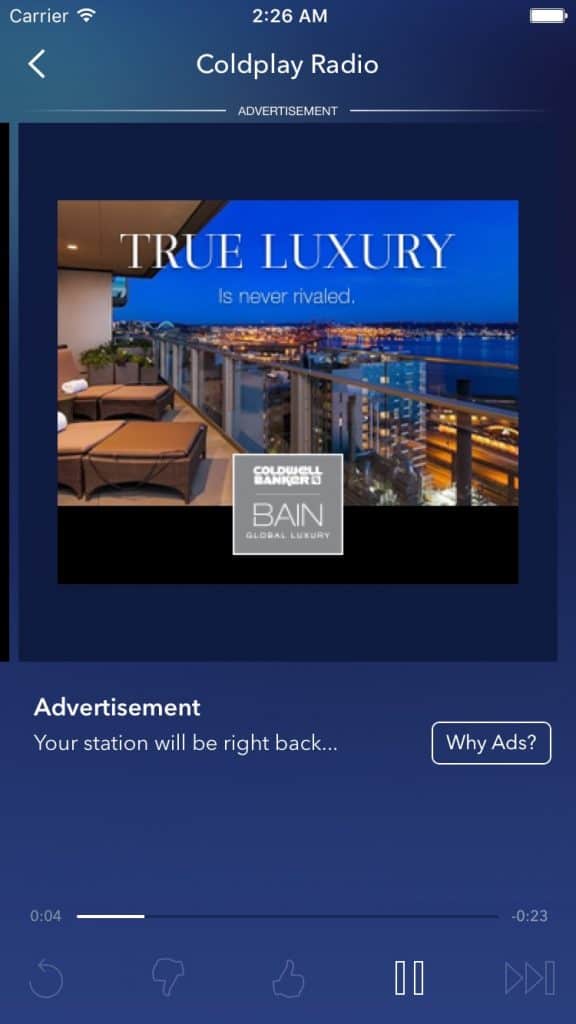 First, here are some important details to know about Pandora Radio Advertising
There are only 4 minutes of ads per hour on Pandora. The average traditional radio station runs 12-16 minutes of ads per hour. Having limited ads increases the user experience and keeps the environment clutter-free for advertisers.
Pandora ads serve most often during "transition periods," which confirm listener engagement. This tactic means that Pandora is strategic about when it serves your ads. Pandora serves most of the ads shortly after, if not immediately after, a user likes or dislikes a song, or changes a station. The user interaction confirms that the Pandora user is actively listening, which is the best way to ensure your ads get heard.
3. With Pandora Radio, you will know the exact number of people listening to you commercial because listeners must be logged in to their account to access their Pandora account. Compare this capability with traditional Radio, where you're at the mercy of an antiquated radio rating system called PPM (Portable People Meters), which has a lot of skepticism about its accuracy.
4. You'll pay per listener, not by rating point. Pandora sells advertising by CPM (cost per thousand) impressions. This digital advertising sales model provides much more accountability and allows you to better track your ROI, just like you would with a digital advertising campaign. Yet, Pandora delivers the power of audio advertising versus Digital Display advertising.
Pandora also has video advertising capabilities that are pretty awesome, too.
5. On Pandora Radio, you can quickly narrow down your target demographic. We can geographically target users by zip code, city, county, MSA/DMA, or state. Additional targeting by gender and by age make Pandora even more effective.
Traditional Radio is constrained to DMA Level targeting, which is a much wider net than many advertisers want to cast today. DMA is the entire market! In Seattle, that means advertising on Conventional Radio broadcasts your ads from Chehalis to Bellingham!
6. Swapping creative on Pandora is easy! You may not know that the production of radio commercials for most terrestrial radio stations, and digital radio companies, is free. No cost commercial production is offered as an added value in-house, and the production quality at Pandora Radio is excellent! With audio production teams available that are top-notch and quick turnaround times, advertisers can turn ads around in a hurry without sacrificing quality.
Pandora summed up: Trackable, targetable, audio advertising that delivers results.
To sum up the above features of Pandora Radio, Pandora advertising allows advertisers to reach their target demographic efficiently and with a guarantee of impressions directly served to your demographic. These capabilities provide considerable advantages in the radio advertising market.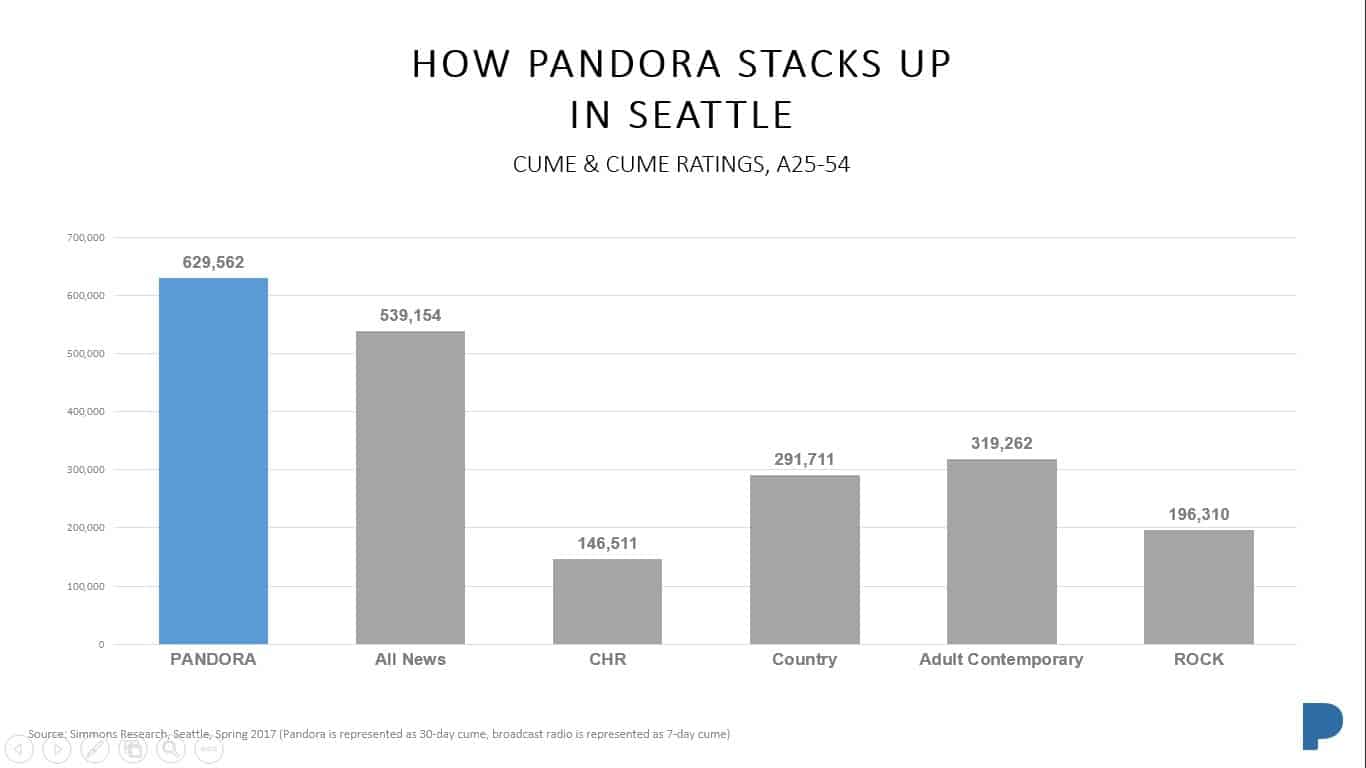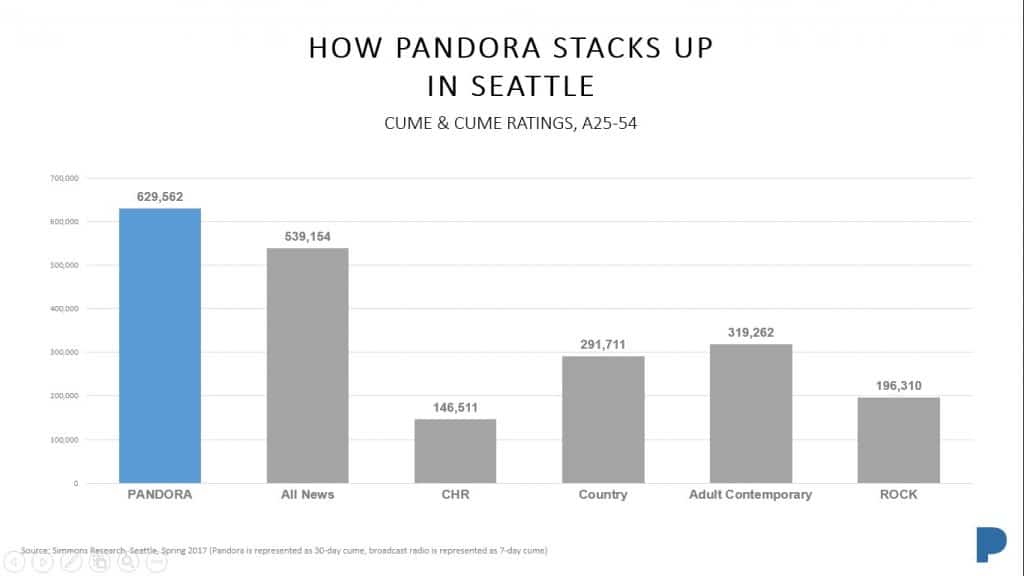 Pandora delivers the sound and emotion of radio ads, which are compelling and influential, like traditional media. However, unlike conventional radio commercials, Pandora radio commercials are guaranteed and measurable, which provides marketing managers with significantly more insight into their *ROAS and ROI.
*ROAS – Return on Ad Spend
What about advertising on Spotify?
As the Digital Radio ad space has grown, we've seen an uptick in interest in Spotify. "Digital audio is booming: Ad revenue grew 42 percent in the first half of 2017 after generating $1.1 billion in 2016, according to the Interactive Advertising Bureau."
At the end of 2017, Spotify reported "that it had 157 million global monthly active users, of which 71 million were subscribers who listen ad-free… Pandora operates only in the U.S. after discontinuing its service in Australia and New Zealand last July.
Pandora reported 74.7 million active listeners at the end of last year, including 5.5 million subscribers to its ad-free products."
Using their numbers, this tells us that 45% of Spotify's users are paying for ad-free listening versus Pandora, which has only 7% of subscribers paying for ad-free listening.
Flip those stats around, and this means that 93% of Pandora listeners are hearing your ads versus 55% of users hearing Spotify ads and that 93 % of Pandora listeners are in the U.S. versus Spotify's number which is accounting for a global reach.
Does that mean we don't buy Spotify advertising?
No. But we consider media research as we make advertising investments and align them with our client's goals before executing a media purchase. Pandora has a lot of advantages at present, in the Seattle market.
What about SoundCloud and Podcast Advertising?
Pandora now sells SoundCloud inventory! Therefore, if you buy ads from Pandora, you can choose to serve ads to SoundCloud users. This new partnership extends Pandora's reach.
Pandora was recently acquired by Sirius Radio, which has expanded its content offerings further since the SoundCloud parentship. Pandora Radio advertising now offers some inventory in Podcasts, which provides an excellent opportunity for 2020 advertising strategy.
According to Edison Research, this year, "some 160 million people stream audio weekly, up from 44 million in 2010".
Streaming audio presents a growing opportunity for advertisers. At Thrive, we're seeing knock-it-outta-the-park returns on digital audio ads for our clients, many in the Seattle, San Francisco, and Portland markets.
Interested in reading about traditional radio and how to make conventional advertising work on the radio in 2020? That link will take you to a blog we wrote that's got some great tips for making terrestrial radio work.