Hulu advertising research requires a greater understanding of the larger OTT advertising landscape.
So you are researching how to advertising on Hulu Advertising, or perhaps you're interested in advertising on streaming TV. Still, you aren't sure where to begin because that whole thing is a big animal! Today I'm going to tackle a vast topic and breakdown how advertising in streaming content like Hulu advertising works and the pros and cons of each digital video advertising tactic.
If you can't figure out where to start, you've come to the right blog, my friend. We're going to break it down using the KISS model; keep it simple stupid. Let's go!
You may have heard of Connected TV (CTV) or OTT Advertising, and you're interested in Hulu advertising.
OTT stands for "Over the Top," which means a viewer is watching TV over the top of a traditional content delivery system like Satellite, Cable, or Broadcast.
OTT advertising has received a great deal of industry attention as a media channel because it has grown substantially over a relatively short period.
In the past two years, OTT usage has increased 81% as subscription services, and ad-supported applications have given viewers new and flexible ways to consume their favorite content.
While OTT usage is growing, the amount of time spent with it should be kept in perspective with overall media usage.
The average adult spends over 5 hours every day watching video content across multiple screens and devices. The majority of that time (75%) is still consumed with live/time-shifted TV.
Time-shifted TV means you watch television content on a DVR or On-Demand. It is shifting the time you watch content on your big screen TV from when it would regularly air on television when it is convenient for you to enjoy the show.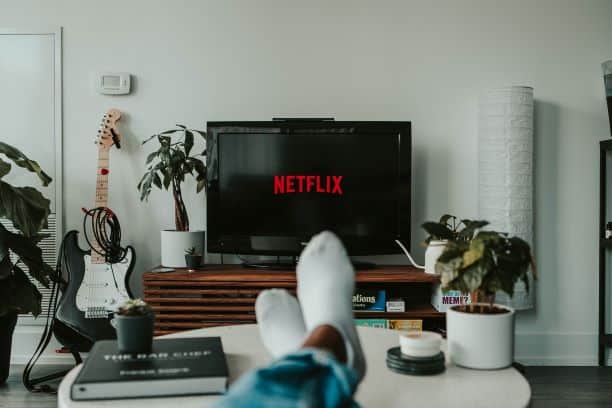 Something often missed in the headlines about OTT advertising growth is that at least 39% of all streaming is not ad-supported (based on Amazon and Netflix streaming only). Therefore, time spent with the ad-supported portion of OTT is a smaller portion than the often reported overall time spent with streaming video.
However, OTT advertising provides the opportunity to reach targeted audiences with digital advertising's targetability, and it can be a great way to reach some demographics.
The difference between OTT and Connected TV.
These terms get used interchangeably, but there is a difference between the two. We'll define a similarly related video advertising option called Programmatic Video and Premium Digital TV (TV Everywhere) as well, so you have the full scoop on video advertising alternatives to TV advertising identified in one concise place.
What is Connected TV Advertising? AKA CTV Advertising
CTV Advertising runs on Smart TVs or traditional televisions through a device connected to the TV.
Advertising on CTV is targeted by IP address, which means that you cannot Retarget users or create lookalikes (LAL) with the same ease of OTT Advertising. We technically can Lookalike Prospect and Retarget, but it is costly since it is IP- based.
With Connected TV Advertising:
You reach a household level device, and therefore targeting is not 1 to 1.
Video Completion Rates (VCR) of CTV are typically higher than with OTT.
VCR rates are often at over 90% with Connected TV.
CPMs are higher with CTV than OTT and Programmatic Video.
We can target CTV advertising inventory in different buckets:
Premium,
Semi-Premium
Standard
You will pay a higher CPM for Premium inventory.
Premium inventory generally consists of household names and can be, but not always, through a paid service.
Standard CTV ad inventory is the most affordable. Standard inventory is still displayed on a large screen TV but can include shorter form content, free services, and lesser-known services.
CPMs range between $35-$50+.
CTV ads usually cannot be skipped and aren't directly clickable.
What is OTT Advertising?
OTT Advertising can run on CTV devices or PC, Mobile, and Tablets.
OTT advertising is mainly cookie-based advertising that targets individual users. This targeting means that we can effectively Retarget users and create Lookalike Prospecting audiences.
OTT Advertising:
Has lower completion rates than CTV because the inventory is skippable.
Video Completion Rates (VCR) often hit 60-80%, so lower than CTV, but higher than Programmatic Video.
OTT Advertising CPMs typically range between $25-$35 depending on ad targeting parameters.
OTT ads are skippable, but they still have better Video Completion Rates than Programmatic Video.
OTT ads are clickable!
We can set up revenue tracking pixels to track ROAS (Return on Ad Spend) and set CPA goals.
What is Programmatic Video?
Programmatic Video advertising runs on PC, Mobile, and Tablet devices.
Programmatic Advertising is a tactic that is mainly cookie-based and has all the AI targeting capabilities imaginable.
Think of Programmatic Display capabilities but insert a video ad for the banner ads.
Programmatic Video:
Provides us access to virtually all browser-based inventory and is the most affordable way to reach people with video ads on the internet using AI.
VCR rates are significantly lower than CTV and OTT, usually between 45-60%.
Programmatic Video ads typically run as pre-roll ads or in a mix of long-form and short-form content.
Think YouTube, news content, and video sharing websites.
CPMs for Programmatic Video ads are about 1/3 of the OTT cost and about 1/4 of Premium CTV.
Therefore, many advertisers chose this tactic because of the reduced price. The CPMs for Programmatic video are generally in the $10-$15 range, depending on targeting.
What are OTT and CTV Combined advertising campaigns?
OTT/CTV Video advertising campaigns run on Connected TVs, PC, Mobile, and Tablet devices.
We often recommend our customers run a combined OTT, and CTV combined advertising campaign for efficiency and high VCR rates, and the ability to deliver cookie-based advertising and IP-based advertising.
With this tactic, the CPM comes down when we buy both strategies, and the VCR rates stay high.
We like the clickable nature of OTT, but the CTV visibility is better and closer to traditional TV in appearance and prestige.
Programmatic Video and Programmatic Display
When considering Programmatic Video, we usually run this tactic in tandem with Programmatic Display. Programmatic Video is more similar to Programmatic Display than it is to OTT and CTV.
Programmatic Video has its value, but it's a different product than the streaming TV advertising options outlined above.
Premium Digital TV Content: Navigating TV Everywhere from your Cable Provider
We're covering a lot. I know. Could you stick with me?
Premium Digital TV Ads in brand-safe content from networks like Tbs, bravo, & HGTV
TV Everywhere, AKA, Premium Digital TV campaigns run in non-skippable, full episodic programming on VOD, OTT, and 'TV Everywhere' Apps and Sites.
TV Everywhere advertising provides:
brand-safe environment, including content from premium networks like TBS, Bravo, CNBC, Food Network, and HGTV.
Direct access to the Cable companies that have first in line access to exclusive network content.
No reselling of remnant inventory or second-string programming.
Ads running in significantly better quality, long-form, full episode content.
TV Everywhere is a fantastic solution for advertisers who want high profile, network quality content, and ads on the home's largest screen and known, trusted, and guaranteed content.
TV Everywhere provides advertisers with accountability significantly better than resellers of OTT and CTV.
Premium Digital TV Ads in brand-safe long-form content from networks like TBS, Bravo, & HGTV
Summary of OTT Advertising
OTT Advertising is what some marketers think of as the new TV landscape.
Yes, consumers stream more content to their devices, and streaming has become increasingly important for advertisers to use as a marketing channel, especially in reaching younger audiences.
As video content viewing has fragmented, it has become vital for advertisers to reaggregate Reach.
"Whether individuals or households are watching TV via their cable subscription or an OTT device, it comes down to finding the right audiences at scale."

Robin Rucinsky, President, Thrive Advertising
Advertisers need to understand where and how viewers engage with video content.
Example goals for our clients' to successfully launch their CTV advertising debut are:
Air commercials in long-form, TV-quality programming. No cat videos!
Ensuring the ads run in 1st party, safe, guaranteed long-form, high-quality content mostly on the big screen (~85%+ impressions).
Avoid middlemen and remnant advertising resellers. Many OTT advertising sales companies are reselling inventory that goes unwanted by savvier advertisers.
Guaranteed impressions, no ad fraud or bots!
Access to exclusive Cable On-demand programming that ensures high-quality impressions with affluent viewers.
Trust in the value of buying through a media company that has carriage agreements with the top TV networks in the country. CTV resellers are often startup companies with less skin in the game regarding accountability for ad delivery and access to content.
"Overall, our philosophy is to take an audience-first approach; advertisers should be device-agnostic."

Robin Rucinsky, President, Thrive Advertising
You probably landed on this blog because you were Googling how to advertise on Hulu. But it's simply not that easy. If you're looking into advertising on streaming TV, you must understand all the variables and their unique values.
So how do you navigate Hulu Advertising and access to other streaming video advertising platforms?
Hulu Advertising can be purchased in a few different ways. It used to be harder to navigate Hulu Advertising because they had sky-high monthly minimums and limited access to their advertising sales team. It's improving, slowly but surely. One great way to access Hulu Advertising is through an OTT ad buy. Hulu is a premium content offering, and the CPMs are relatively high, quite a bit higher than the CPMs referenced above.
To get started advertising on Hulu, or in any medium, our team runs through a marketing needs analysis with our clients to identify whom they're trying to reach. We look through the current advertising strategy and look for areas that could improve.
Suppose Hulu Advertising or a broader CTV Advertising plan makes sense. In that case, we start putting together an OTT Advertising campaign that will best meet your needs at the most efficient costs possible. We then optimize, monitor, and track the results to hit benchmark goals and deliver ROI.
If you've never worked with a professional Media Buyer, we'd love to talk with you about the benefits of doing so.
We work with your existing advertising budget and do not charge additional fees or retainers to manage your investment for you. We use our bulk purchasing power to benefit all of our customers while we live and breathe advertising purchases day in and day out. We become your advertising experts, ready to lend our wisdom and experience to your business without the hiring cost of bringing on a senior-level marketing employee. Call or message us today for a complimentary advertising audit.