You want to know how to reach affluent audiences. You've landed in the right place! Today's blog is about reaching a niche audience of Chinese Americans and the greater Asian American demographic.
Chinese Americans' median household income is $85,229, compared with the general market Americans'median household income of $63,922.
Taiwanese Americans have an even higher income as one of the most affluent Asian American groups, with a household median income of $97,129.
Chinese Americans, including Taiwanese, make up the largest
group of Asian Americans. It has a population of 5,400,000.

Chinese Americans' (not including Taiwanese) buying power make up 23 percent of the U.S. Asian market ($233 billion).

730,000 of Chinese American and Taiwanese American households have an income of $200,000 or more.
Source: Census 2020, Pew Center Research 2019.
A demographic we get approached about reasonably often is reaching the affluent Chinese American demographic in the Seattle area. A tactic we've found to generate successful ROI is advertising in the Leading Chinese newspaper in the USA and the No. 1 Chinese newspaper in the Northwest region!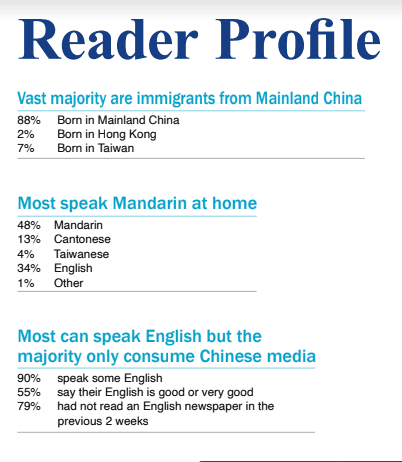 • The Only Chinese media that gained third-party circulation audited by BPA in North America
• Real-time and u n _c e n s o r e d Chinese News
• 180+ distributing sites covering the Puget Sound
• Print readers: 20k (Chinese)
• Online readers: 60k (Chinese + we can target any demographic group)
• Print in traditional Chinese so Mainland Chinese, Taiwanese, and people from Hong Kong and southeastern Asia can read it. We recommend our advertisers run their ads in traditional Chinese over Simplified Chinese.
A tip for how to reach affluent audiences
While there are many different segments of affluence in the U.S. this blog post is specifically about reaching an affluent Chinese or Asian demographic. The publication we use most often for this is one of the most widely distributed Chinese-language newspapers in the US and worldwide. Their distribution method and network is well tailored to each local community's unique target readers.

From hand delivery to newspaper stands and boxes, subscription mailing to private homes, and institution bulk mailing, they get each copy of their newspaper into the hands of their readers.

The Chinese newspaper is widely accessible in major Chinese or Asian residential neighborhoods, businesses or community centers, supermarkets, grocery stores, restaurants, language schools and
universities, office buildings, bus terminals, and public libraries.
Going well beyond the Chinatown area, penetrating widely
and deeply into the Chinese communities everywhere, both urban and suburban.
If you're interested in advertising and learning more about how to reach affluent audiences like the demographic discussed above, call us to discuss your advertising strategy. We know that during inflation increasing marketing in areas that are less affected is the key to continued growth. We can help you create an advertising strategy to reach affluent Asian families in the U.S. and facilitate graphic design in Simplified Chinese.