As if the world of paid media wasn't complicated enough we now have a giant category of new advertising opportunities like Influencer Marketing, Sponsored Content, and Native Advertising. These Native Advertising opportunities might be new concepts to you, and the easiest way to understand them is to think of what was once called an Advertorial or hiring an advertising Spokesperson. 
These new tactics aren't new, but they're sold differently and more overt than they once were. Nearly all Millennials are familiar with Influencers, and most have become comfortable with regularly being "pitched" through the feeds of their social media accounts.
What we want to help you decipher here is the difference between the three outlined Sponsored Content Marketing Strategies.
Content Marketing Definition
Content Marketing is a marketing strategy focused on generating useful and relevant information targeted to a brand's demographic without explicitly promoting the brand. Marketing Content refers to the overall strategic use of videos, blogs, social media posts, etc. to share information to persuade a user to trust a brand.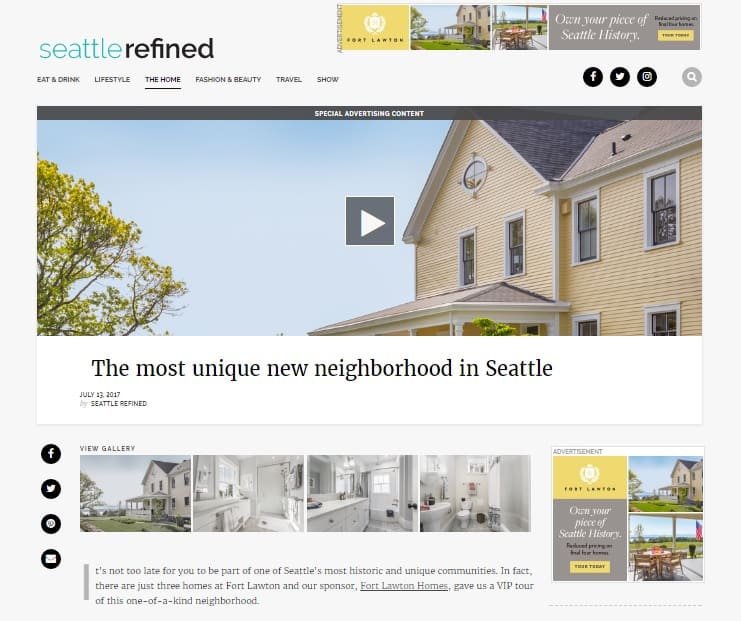 SEM Rush clarifies that Content Marketing is "Like native advertising, [but] content marketing provides valuable knowledge to raise brand awareness while targeting a specialized group of potential customers…its primary focus is moreover to nourish the lead as part of a long-term process with the result being sales and conversions.  It is not a single piece of content but an ongoing process that integrates into an overall marketing campaign.
Native Advertising Definition
Native Advertising is part of a Content Marketing Strategy. Native Advertising "is something that all of us are familiar with to an extent. It's a type of online marketing characterized by a streamlined and unobtrusive ad placement [that is] targeted and [provides] valuable information to a specified demographic.
Native ads are placed "seamlessly" within a website so that they don't disrupt the experience of the viewer, like in between paragraphs, and usually, do not appear like a traditional ad in that they may not directly advertise for a service."
Digital and Print Native Advertising
While Native Advertising most often refers to digital advertising, print companies are adopting the phrase and offering Native Advertising in print as well. Native Advertising refers to advertorial content that looks like the editorial content that it is near and often but not always it is marked as Sponsored or Native so to disclose (albeit typically in very fine print) that the information is paid content.
Native Advertising is very common and advertisers, reputable and not, use them. Advertisers that run good quality Native Advertising campaigns will write high quality sponsored content that resonates with the intended reader and provides value. The shadier tactics used by less legit advertisers are often click bait with salacious headlines often delivered through Programmatic bidding and the site publisher may or may not be aware that the headlines are on their website.
Influencer Marketing
Influencer Marketing is something most people are familiar with because of our obsessive social media use in America. The right Social Influencers are highly persuasive when they work with a brand because they work 24/7 to cultivate trust with their followers. Depending on their platform and follower count they can generate a substantial income by promoting brands and products that they love [or pretend to love].
We've seen Influencer Marketing be very successful and it can also be a total flop. The key is aligning with Influencers who truly do love your product, so they're able to authentically share reasons they love it with their followers.
Geographic Targeting
Influencer Marketing gives businesses and brands geotargeting capabilities to align their message with local Influencers who will reach the advertiser's defined geographic area.
The biggest challenge advertisers have when working with Influencers is follow through.
Some Influencers, not all, are less focused than they need to be on the business side of their platform. We've seen and heard story after story of brands that have been let down by an Influencer because the deliverables weren't clearly defined and the Influencer ultimately ended up flaking out or delivering a less than enthusiastic endorsement that fizzled quickly.
Are you a Seattle Influencer?
We'd love to hear from you. We have relationships with local Influencers who have built trust over time and consistently deliver results for advertisers.
We connect brands with Influencers.
While most of our Influencer connections are in our home market (Seattle), we can connect brands with Influencers in other markets. Give us a call to be connected to local Influencers. Influencer Marketing is relatively new and an exploding area of advertising strategy that we're watching closely. We have studied it in detail through hands-on experience and in graduate-level studies in our completed Cornell University Digital Marketing Program.