Over the years, Thrive Advertising has built a portfolio of extensive experience in creating effective media buys and advertising plans for the real estate industry. For over a decade, we've worked for dozens of leaders in the real estate industry from the Washington State Realtors Association to Major  Developers, National Builders, master-planned communities, luxury resort communities with real estate sales, and for the largest single-owner real estate company in the Pacific Northwest with over 2,000 real estate agents and 34 branches. Our real estate advertising experts' strategies are proven, and unlike most advertising agencies without the experience, we've had.
Some of our all-time favorite real estate advertising projects have been working for places we love, like Suncadia Resort and Seabrook, Washington's Beach Town. We've fallen in love with these treasures and work hard alongside their marketing teams to create advertising plans that share their message with their demographic in the most efficient and effective ways.
You can read about our wild marketing success with a resort town marketing campaign that helped contribute to an August they'll never forget in 2017. "When the small and modern community enjoyed a record-breaking $13 million in home sales and a 19.5 percent increase in rental revenue, making it the most successful month for cottage rentals since the town's founding in 2004."
We were the media buying partner of a gorgeous new Seattle condo tower, Luma Condos, that sold out in record time in 2016 before the massive explosion in Seattle real estate. The developer was thrilled with the media buys and extra effort we put into creating media partnerships that funded a large portion of their Grand Opening Party through a relationship we created with a local magazine.
We've been the media agency of record for master-planned communities like Panorama at Talus in Issaquah, WA, and Ten Trails in Black Diamond, WA. We have worked tirelessly to share the message of these gorgeous new communities with the perfectly aligned demographics of each community. We collaborate with their brilliant marketing people to reach the right people with the right message and the most opportune time through proven real estate advertising experts' strategies.
Luxury apartment homes and multi-million dollar residences in Seattle's most unique neighborhood have also had our media buying work supporting their real estate sales! Our advertising team has connected local real estate agents with Seattle media companies to shoot TV footage and sponsored advertorial style television segments that set luxury home listings apart.
You can check out this beautiful TV marketing segment showcasing this take-your-breath-away Laurelhurst estate. Or maybe you're more interested in this story with television host Gaard Swanson on these stunning view homes in the Issaquah Alps. In both of these examples, our media buyers connected the media with these advertisers to create sponsored content that sells and provides fantastic social content and organic SEO links for maximum real estate advertising exposure.
Lastly, one unique client we have worked for over the years is the Leisure Care company. Their most recent project was a vibrant new senior living community, Murano Senior Living, in Seattle. This advertiser was unique because of all the challenges and obstacles we faced. We worked with this advertiser to navigate a marketing plan for the grand opening of a senior living facility during a Global Pandemic! It took excellent communication and marketing skills to ensure a successful launch of the new community while balancing safety concerns with fear and advertising. We also used our fantastic relationships with the media companies and exceptional communication skills to ensure cancellation clauses were honored and that we were able to adjust our flight schedules to match the appropriate timing of marketing during a crisis.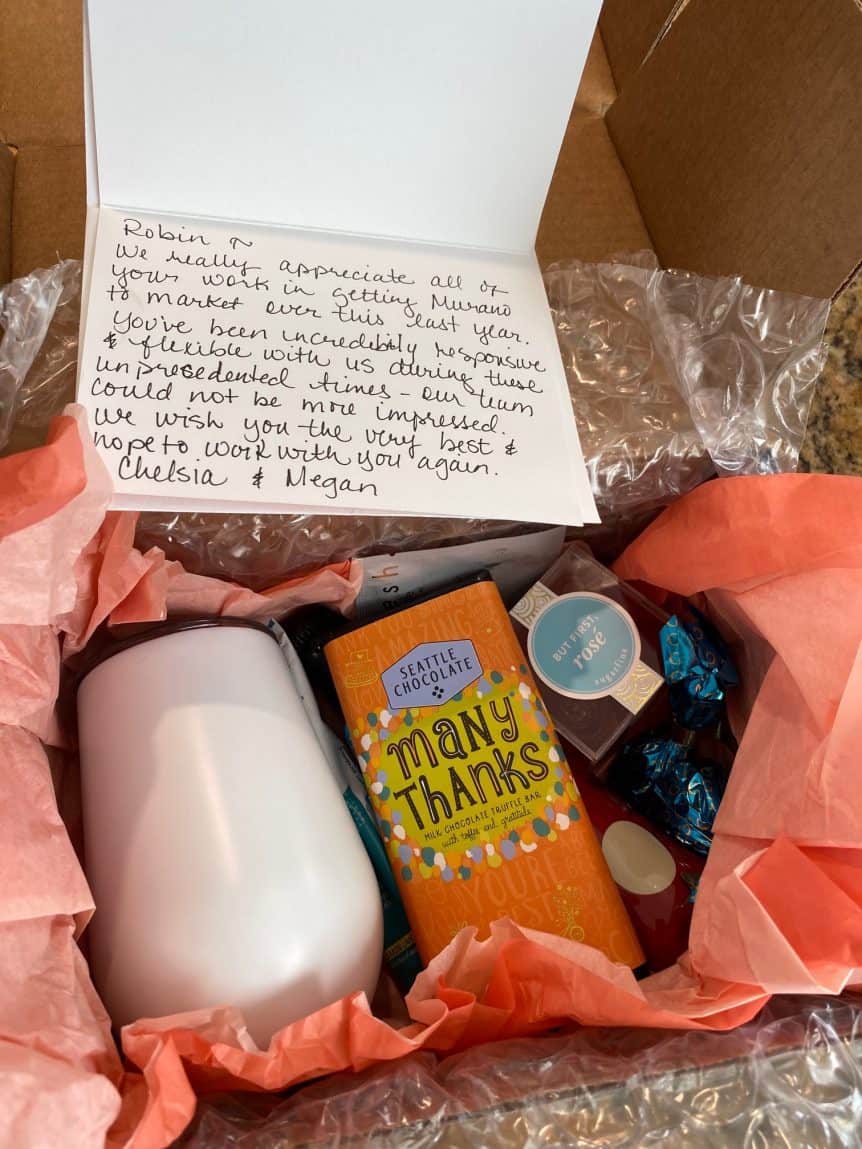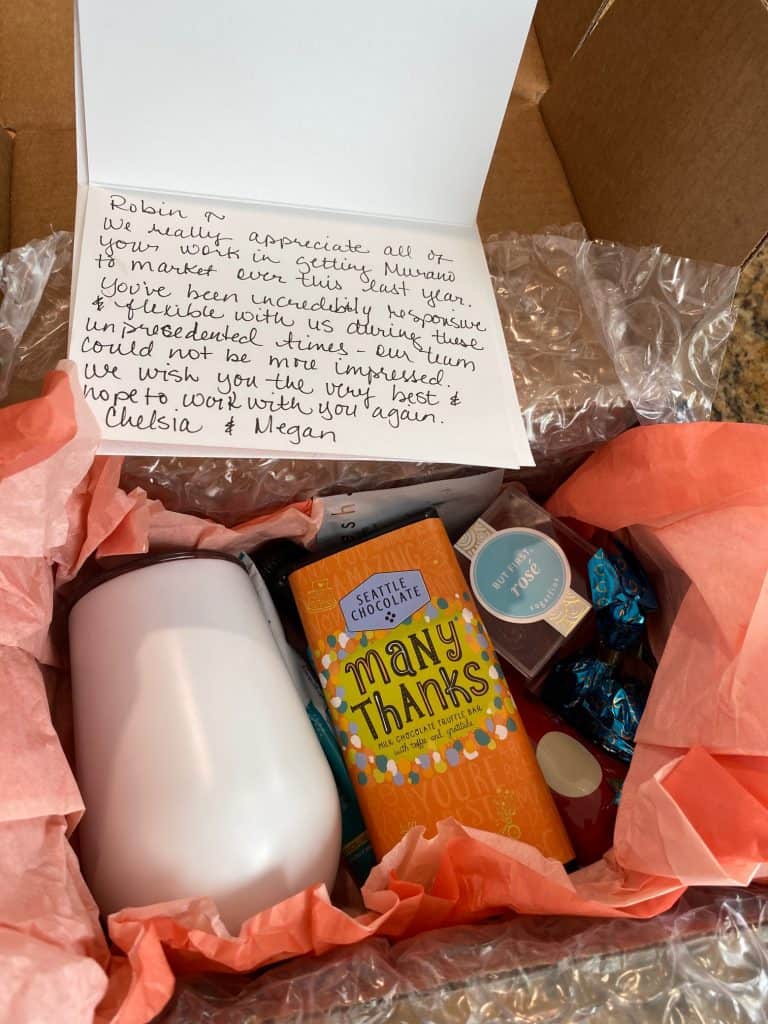 In the end, we had incredible success in launching the senior living community despite all the factors working against us. In fact, the marketing campaign went so well that we received a handwritten card and care package from their marketing team! They were so thankful for our team's hard work that they took the time to pack a thank you gift and mailed it to our office!
In an age of Zoom and email, our little marketing hearts burst when we received that thoughtful thank you parcel in the mail. What a wonderful gesture! We loved working on this real estate marketing campaign.
Whether you're a real estate developer, builder, or brokerage company, we'd love to connect with you to chat about how our real estate marketing strategies are different than others. We've spent over a decade crafting media plans that generate ROI and sell properties. We can do the same for you. Contact us to speak directly to one of our real estate marketing experts media buys today.