Have you been wondering how to reach tech professionals who work at Microsoft, Google, Amazon, or Facebook in the Seattle and Bellevue areas? Here's a couple of tips on how to advertise to Microsoft employees.
Everyone wants to target their ads to reach the affluent tech demo. What advertiser doesn't want their ads in front of a group of people who have secure jobs and disposable income?
Well lucky for you, you've stumbled across our little space on the internet, and our media buying company happens to be experts at reaching this demographic. They're in our backyard, and we're blessed to call many of these Facebook, Amazon, Google, and Microsoft employees, our friends. So, we've got professional expertise as well as personal experience picking the brains of our very own friend created focus groups!
How do you get your advertising message in front of this Eastside tech audience?
One great place to reach them is in their areas of self-care like the go-to Microsoft employee gym and sports club. Here is a snapshot of the demographics at this elite health club. We've got fantastic advertising rates due to our relationships, and our clients have seen great success in this publication. See the Demographic Profile below? Do you see that little line that says, "Millionaires?" 5,000+ Millionaires attend this gym!! Remember our blog on how to reach the luxury market? This is one of our go-to places to reach an affluent demographic with our clients' advertising messages. See how to reach Millionaires with your advertising and how to advertise to Microsoft employees.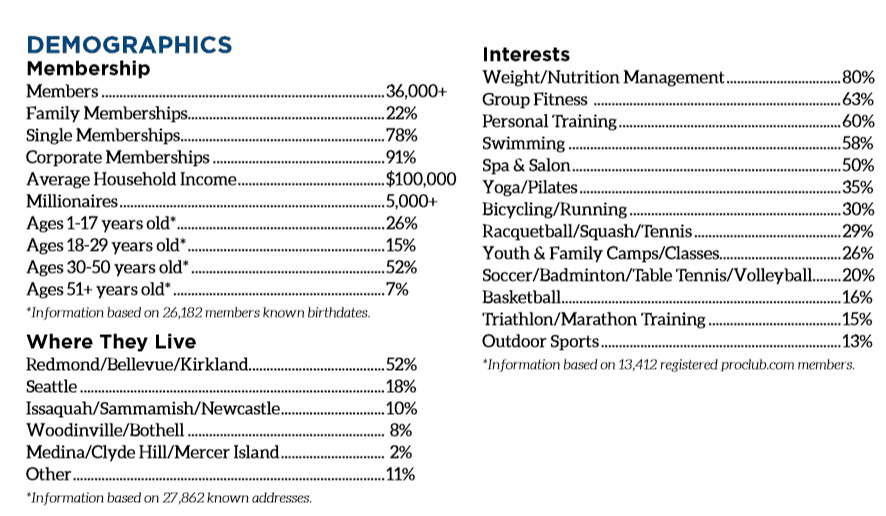 Another secret but not so secret place? Geekwire Advertising.
Geekwire.com. We've got fantastic relationships with the folks at Geekwire. We know how to best partner with them to get your ads and sponsored content in front of their highly desired tech demographic. We'll share success stories from Geekwire too if you let us! Sharing ideas for how to make advertising work in 2019 is one of our favorite things to do. Use Geekwire to advertise to Microsoft employees! Don't you think most of them read Geekwire, every day?!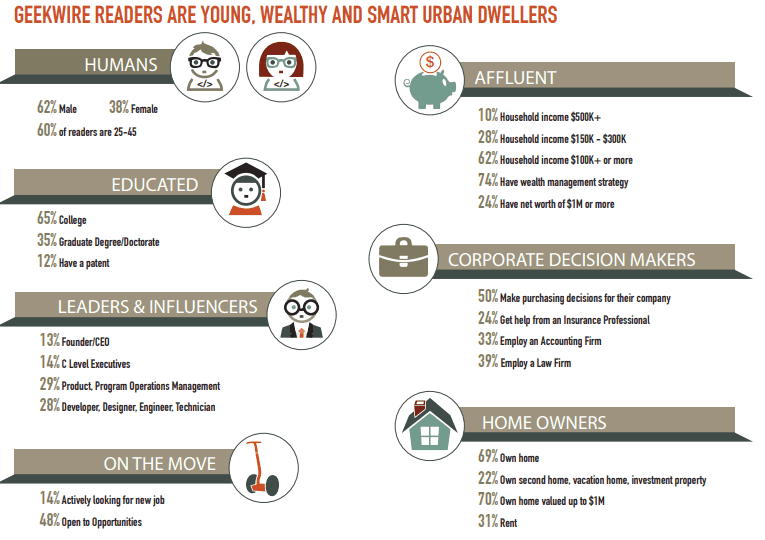 We've got a lot more insider media buying knowledge to share, but we can't give out our secrets on the internet! That'd be silly. So, give us a call to talk about media strategy. We're your paid media buying experts, and we're ready to get your advertising message to the demographics you've been missing.