We recently posted a blog on Cable television advertising. To explain how Cable advertising works, we had to contrast it to Broadcast television advertising. As promised, this is the blog post that explains the value of Broadcast TV advertising, why an advertiser would use it in their media plan for 2019 and tips for how to buy Broadcast TV advertising.
My background is in Broadcast TV sales. I sold local TV advertising up until I left to start Thrive in 2008. I went just as we were in the heat of the Presidential Election of 2008. My experience in TV advertising sales launched my path to entrepreneurship. One of our greatest values to our customers is our unique perspective and understanding of the traditional media landscape paired with our skills in digital advertising. While many agencies specialize in Traditional or Digital advertising, we're savvy at both which allows us to use both our experience and wisdom to create custom media plans that include the best media for the job. We cherry-pick the most effective media for each plan, and one of those cherries is broadcast TV advertising.
Broadcast TV reaches a large geographic area.
In the Seattle-Tacoma DMA broadcast stations (the big ones being KING, KIRO, KOMO, Q13, KSTW) air from north of Bellingham to the south of Chehalis. Broadcast TV casts a wide net which is great for Reach that provides advertisers a wide coverage area to get their message out to a huge group of people.
Broadcast TV airs on all television delivery systems.
The broad Reach ensures that you'll be able to see ABC, NBC, Fox, CBS and CW on Comcast, Directv, Dish, and over the air (i.e. bunny ears). Broadcast stations are available in every TV household. Broadcast TV advertising is still effective for reaching demographics 30+. Although it is important to purchase it strategically and properly assess your demographic.
A lot of the value in Broadcast TV advertising for local advertisers is the local news.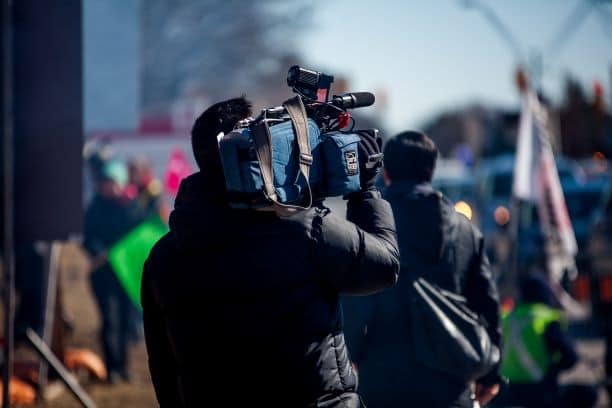 Local news is the bread and butter of local TV stations' revenue. Local news advertising gives marketers access to local audiences who stay informed of news, weather, sports, traffic, and local lifestyles. Advertising in local news provides affordable programming for local advertisers in a quality programming environment. Broadcast stations also offer syndicated programs like Wheel of Fortune and Dr. Phil. Most broadcast television syndication and local programming reach a more mature audience. They often skew female. A broadcast TV advertising plan will hit the Women 50+ demo perfectly. The network affiliates offer programs like Good Morning America and The Today Show that effectively reach the Women 35+ demo.
Advertisers should only buy programs that aren't likely to be recorded, and they should stick with dayparts that are affordable enough to achieve solid Reach and Frequency. Primetime programming is out of reach for most local advertisers. For instance, a business with a monthly budget of $20,000 might only be able to buy four commercials in primetime because the spots could cost $5,000 each! Unfortunately, four commercials won't generate enough Frequency to make the phone ring or site traffic spike.
Broadcast TV advertising usually provides a more affordable CPM because it reaches a larger audience. It also airs most of the high profile sports events and award programs like the Super Bowl or the Oscars.
There a lot of tricks of the trade to make Broadcast TV advertising work well.
For instance, many advertisers will "flight" their ads to run two weeks on the air, then two weeks off the air. Flighting boosts their Frequency in a short period. Then during the two weeks off the air, viewers don't realize they aren't on-air. An advertising campaign flight strategy works because it makes an advertising budget stretch further and gives advertisers higher Frequency.
Another successful TV advertising strategy is to run Bookend commercials. Bookend spots are two (:15) second commercials created to air at the beginning of a commercial break and the end. Bookends increase the Frequency and provide more exposure for less money for an advertiser. You should pay the same rate for Bookends as you would a standard (:30) spot, do not pay a premium.
Sponsored Content on Television
Did you know you that Broadcast TV stations offer Native Content advertising opportunities these days? Ever watch television segments in programs like Evening Magazine on KING 5 that look paid? They often are. You can purchase advertorial content segments in some local television programs. Paid TV segments provide a great way to generate content for social sharing, establish backlinks for SEO purposes on trusted local news websites, and offers a fun alternative to earned media for sharing your story with a broadcast audience.
Do people watch live TV anymore?
Glad you asked! Yes! In pretty impressive numbers too! The Atlantic published a great article linked below that says, "With Netflix and Amazon Prime, Facebook Video and YouTube, it's tempting to imagine that the tech industry destroyed TV. The world is more than 25 years into the web era, after all, more than half of American households have had home Internet for 15 years, and the current smartphone paradigm began more than a decade ago.
But no.
Americans still watch an absolutely astounding amount of traditional television." You can read the full article here.
Programmatic TV: How to buy Broadcast TV ads through a Programmatic Ad Platform
We love technology as much as any Marketer and we relish any opportunity to save our clients money and increase the efficiency of their ad buys. There is a DSP (Demand Side Platform) specifically for Broadcast TV that allows us to reach 92% of all Broadcast Stations in the country (nearly 100% of the mid to large markets!). This Programmatic TV buying platform allows us to save our customers a fortune on the CPM! If you're buying OTT and want to know a more efficient way to reach your demo on Broadcast Channels on live linear TV at a fraction of the cost of OTT, give us a call to discuss strategy. We can target dayparts and program type! It's not just ROS and you'll be able to select the exact Broadcast station! Knowing this will save you a ton of money this year and will increase your bottom line significantly.
How to avoid a TV Advertising Campaign Fail
Lastly, and most importantly, you must have a professional media buying strategy when you're buying Broadcast TV advertising (or any media!). Letting experts professionally create advertising plans that reach your target demographic is the difference between successful ROI and a total campaign flop.
Unless you're a professional media buyer, do not do your own media planning! You probably don't invest your retirement account without guidance. Why would you invest hundreds of thousands of marketing dollars without advice?!
We deliver media planning advice that is insightful, innovative and most notably – independent of media ownership. Contact us here to schedule a meeting to discuss your media strategy.