In case you missed it, we recently stumbled upon a old piece from the Columbia Journalism Review highlighting the role city magazines have evolved to serve. Since 2008, these publications may have gotten thinner, but since the recession this corner of the media has evolved into a fantastic focus – custom publishing and events. As you are planning your 2020 media mix – don't forget to tip your hat to your city…
Your Brand + Mature Affluent Market
"A mature, affluent market has always been at the core of most city mags: According to a 2016 City and Regional Magazine Association readership study, 83 percent of readers are between the ages of 25 and 64, but the average reader age for many pubs is in the 40s and 50s. They're college educated (79 percent), and their median household income is $162,000. Regional mags are having increasing success reaching younger readers on websites, through e-newsletters, and through social media—and that, too, has become a source of revenue."
Local Lifestyle Authorities
"Another factor helping print editions remain viable is that, in the wake of the 2008 downturn, city mags have emerged as one of the few remaining authorities in key lifestyle categories like dining and shopping. Newspapers have cut back or altogether ceased retail and restaurant reviews, which are costly. And the crowd-sourced upstarts such as Yelp! and most local bloggers don't yet have the cache of credibility that city mags have accrued over the years. "Real dining coverage takes so much money," says Rogers. "We'll eat there several times and write a 1,200-word review. No one else is doing that."
If you are looking to connect with an affluent audience with your product, brand or business that would resonate with a targeted geo, you can really interact with your audience in a unique way.
How to stand out in booming Seattle
Rewinding back to 2017, Thrive worked with Red Propeller on a real estate development project for AMLI, on their newest multifamily development in South Lake Union, known as AMLI Arc. At this time in our growing city, A TON of product offerings were coming to market. The landcape of our city was literally changing overnight here in the PNW.
We turned to one of our local city Magazines, Seattle Magazine for a fantastic partnership for this client. In conjunction with paid media placements in the publication – AMLI Arc's sponsorship included unique advertising opportunities such as:
Branding, Signage & Recognition throughout Red, White & Brew Event
Content in Seattle Mag's Digital Newsletter to subscribers
Social media posts on Facebook, Twitter, and Instagram
Inclusion in Full page print ad in the August Wine Awards issue of Seattle Magazine
Branding in to multiple print ads promoting event ticket sales
Onsite presence for AMLI branded vehicle/bike exclusively near Washington State Craft Brewery Association (Craft Beer Tasting)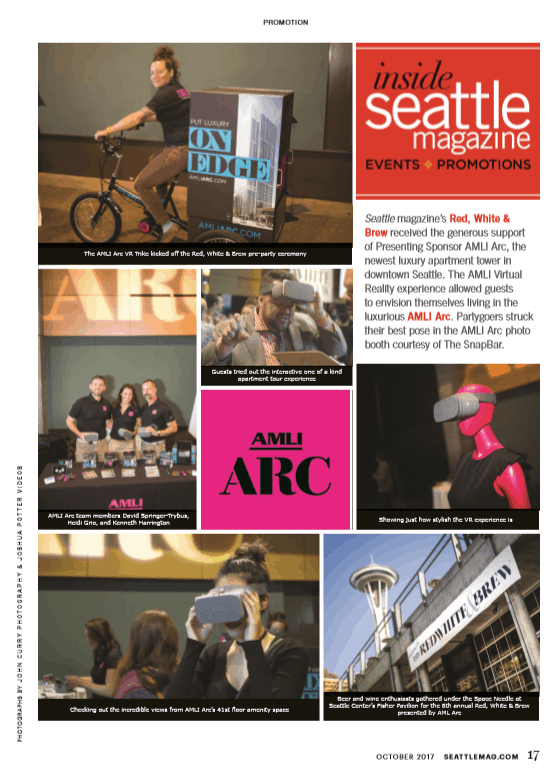 If after your campaign 'anchors' are in place, have you asked yourself what City Mag are you missing out on in your ad strategy? From our Media Buyer perspective, they can be an easily added into your mix. Often you'll find tiered price points of sponsorship level options to consider for your budget.
Lastly, they are pretty pubs! City magazines represent their respective cities well/ Taking pride in the what brands, businesses, food and people that make a city what it is… also happens to often be a compelling visual story to tell. CRMA notes that 76 percent of readers still have last month's issue on the coffee table when the new one arrives… so what lifestyle adverting or brand partnership could your brand be in perfect alignment for?