Well, ratings are higher than ever for some networks, and rates are lower than I've seen them since 2005! Now, sure is the time to buy advertising and you may be looking for freelance media buyers.
We've been absolutely slammed with inquiries and phone calls from business and political advertising campaigns across the country looking for media plans, stat. One of the advantages of us being a niche media buying firm is that we've worked hard to keep our overhead low and our value high. Our business model allows us to be a great asset to business owners far and wide right now.
This Pandemic and Quarantine have led to many calls from advertisers seeking freelance media buyers. Whether you're a business owner in a sudden bind or a full-service advertising agency suddenly down a media buyer, we're available to provide media buying support in the interim or for the long term.
Freelance Media Buyer
Business owners, marketers, and agencies — our media buying team can help you without the hiring cost! Our team of media buyers is fully operational, working from home, and ready to serve your marketing team as media planners on call. If you need freelance media buyers, a long-term partner, or a pinch hitter for your advertising agency to help weather this storm, we're just a phone call or zoom conference away.
Media Usage Up Dramatically During Pandemic
"Starting in March 2020 the country began dealing in earnest with the threat of COVID-19/Coronavirus, which was declared a global pandemic by the World Health Organization on March 11th. This crisis has forced millions of Americans to stay home, while the phrases "social distancing" and "self-quarantine" have taken over the media and become part of our daily conversation."
" TVB commissioned Dynata to conduct a study during this unprecedented time to determine the pandemic's impact on people's attitudes about and consumption of media." These slides were shared with us by Tegna.
Media Usage Survey Methodology
The survey went into 10 states with a total of 10,042 Adults 18+ respondents; with approx. 1,000 per state ▪ 10 states: California, Florida, Georgia, Illinois, Louisiana, Michigan, New Jersey, New York, Texas, Washington ▪ Interviews were collected via opt-in online survey. The median completion time of the survey was about 6 minutes WHEN: Interviews took place April 1-7, 2020.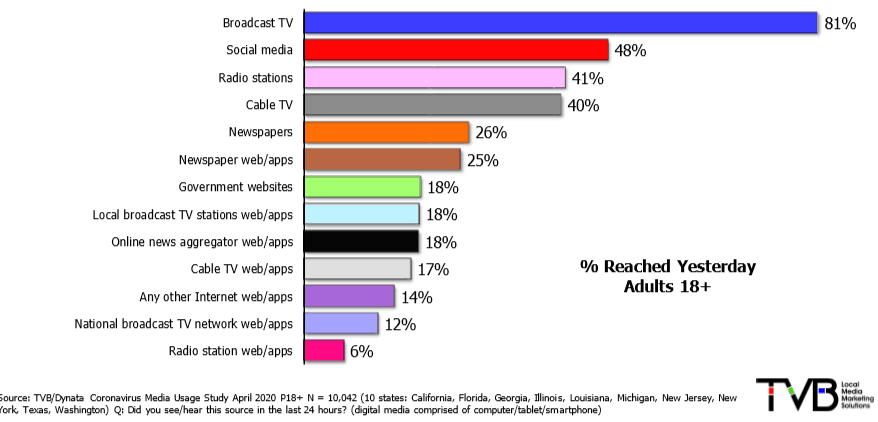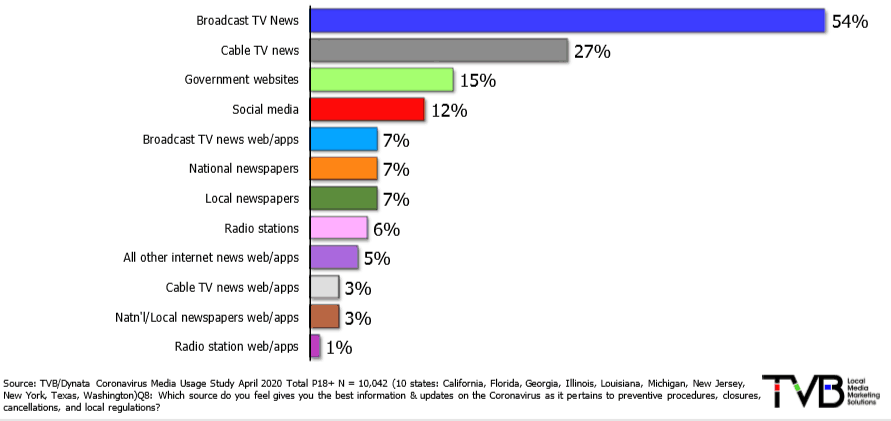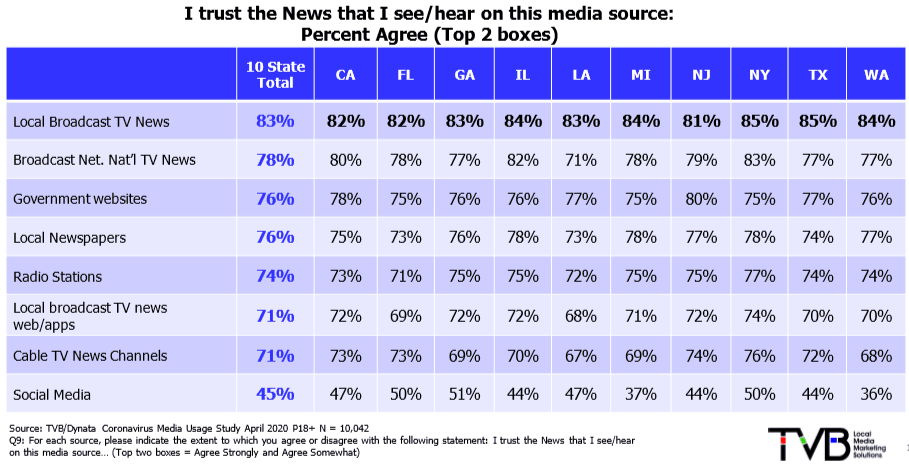 Keep in mind that this survey was commissioned by Broadcast Television Stations. However, it's interesting to see and the company that performed the survey is respected among National Media Buyers.
If you're looking for freelance media buyers or a permanent one, we're your team. We look forward to talking with you about what it's like to run your agency or business with a media buyer on your side!