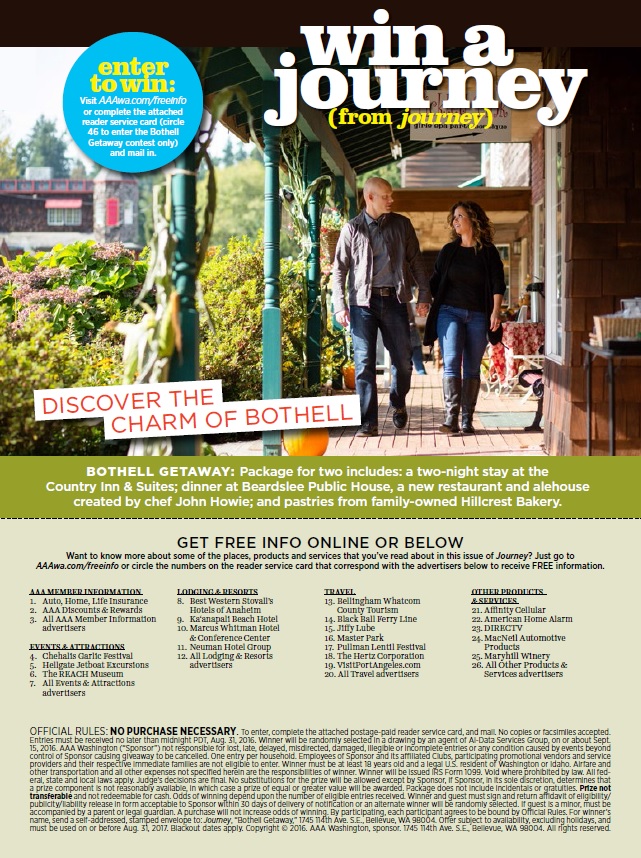 If you're looking for a tourism advertising agency, you've stumbled across the right media buying team for your hospitality or tourism brand. Here's a fun partnership we did for a client, the City of Bothell, targeting Adults 50+ through AAA's Magazine Journey. 
We created an advertising partner for the City of Bothell to offer a getaway package through Journey Magazine, which has a vast reach—reaching 1.1 million readers with a circulation of 657,000+. Journey Magazine provides mostly travel-related content reaching Washington and North Idaho readers.
We partnered with a creative ad agency in Seattle (Real Estate Development R.E.D. Propeller) that revamped the City of Bothell's website and did all of the creative work. We negotiated the print advertising buy that ran simultaneously with a wildly successful digital advertising strategy that reached younger demographics.
Explore Bothell promotes the city's tourism with great stay-and-play packages! The City of Bothell is the perfect place to stay outside Seattle. If you still need to check out McMenamin's Tavern on the Square at the Anderson School, you must add it to your list of Summer hot spots.
If you need a tourism advertising agency or a media buying partner to help your brand reach your target demographic more efficiently, reach out to our media buying team! We would love to share how we can make your hospitality and tourism marketing dollars work much harder than they are now!
The City of Bothell isn't the only tourism marketing campaign we've run. We also have a fantastic case study from media buys we managed for the charming town of Seabrook, Washington's Beach Town, and Suncadia Resort in Cle Elum, Washington. Seabrook and Suncadia are Washington tourist destinations you must explore if you've never been. The case studies we have from these two tourism marketing campaigns are fantastic. Return on ad spend was through the roof when we added revenue-tracking pixels to our campaigns.