It's fun to share success stories with you! Today we have a great Cable TV ad case study. We started working with a home improvement industry client this spring. They'd never done much advertising, but they were ready to scale. They called us because their industry group had suggested using a Media Buyer to help them create an advertising plan and negotiate the best rates.
After a deep dive into their goals and needs, we ended up choosing Zoned Cable Television advertising. They've been on the air since April. They've run a consistent schedule every month with a combination of Bookend (:15)s and (:30) ads in strategically selected programs on networks that best reach their demo in the best geographic zones.
We usually advise advertisers to plan to "test" an advertising medium no less than six months because it takes a good 3-6 months for ROI to be healthy. This client was successful right out of the gate! So, it was fantastic.
But then this September we caught an error. Not an error on our part or the advertiser's but the media company's part. It was a minor error in the creative being run but it allowed us to require the media company to makegood the air time that had aired less than perfect. This media error meant that this client got 50% more exposure in September.
So imagine how cool it was for us to get this email last night! The client needs to cancel half of their ads in November because they cannot keep up with all the leads! They need a break to get through the inbound leads! Isn't that fantastic? What business owner doesn't want this problem?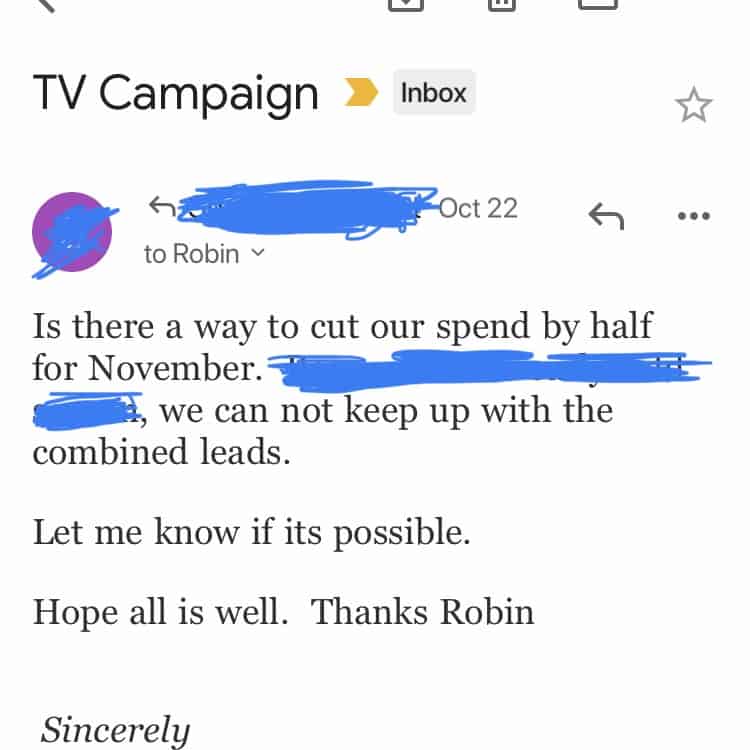 We suggested that we could change the messaging to a recruitment ad to get them more help ASAP. Fortunately, these business owners are seasoned, savvy business people, and they've already got that handled. They've got a candidate pool they're working through and finding the best people for the job. Scaling is a great problem to have! It sure beats the alternative.
We've got many stories to share with you about the successes our customers have seen. This TV ad case study is just one quick example of a business owner who wanted to scale and used the power of TV combined with our expert media buying skills to dramatically grow this business in just 6 months! We even had one of their techs tell us how they had to buy a new truck and add a whole new crew to the team, and that was a couple of months ago!
What are your advertising plans for 2020? Would you like to find out what it's like to run your business with a Media Buyer on your side? Message or call us. We're happy to share success stories, like this TV advertising case study, and references. Let us help you imagine more free time to focus on the parts of your business you enjoy most.