So you want to advertise to prospective customers where they're comfortable. They're relaxed and unwinding after a long day at their tech job. They work for Google, Amazon, Facebook, and Microsoft. They're high earners and have the disposable income that you need your demographic to have. These folks are hard for marketers to pin down because they're busy and on the go. But they do take time to enjoy a bite or beer with their colleagues and friends after work. Reaching affluent tech professionals with ad campaigns is a goal of many of our clients. We get a lot of calls for billboard advertising on the Eastside, but bummer news, there are hardly any billboards on the Eastside of Seattle in the Bellevue-Issaquah-Redmond areas. Therefore, when we heard about Spot43, we were all ears.
Alternative to Billboard Advertising
Bellevue, Seattle, and Redmond are chock-full of professionals working in tech. When these affluent and educated folks get off work and want to avoid the egregious Seattle rush hour, many meet up at their favorite bar, restaurant, and happy hour joint. They also frequent popular lunch spots for business and team lunches! Therein lies an opportunity for marketers to reach this coveted demographic. However, It's not in a traditional ad method like on a bus or through billboard advertising. It's a better, newer way to advertise to a targeted, hyper-local audience.
So what's this "secret" I'm writing about that could be considered Out of Home advertising but is not a billboard advertising opportunity or Bus King? There is a new media company in town, and the founder is a crazy-smart marketer, former Google and Microsoft exec Jason Parekh. Jason's outside-of-the-box creation is shaking things up in the ad world. Meet Spot43!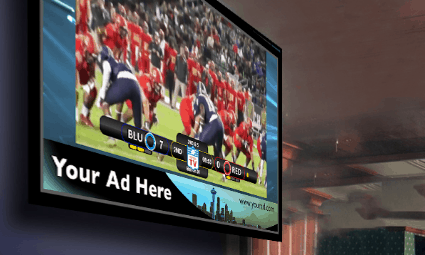 Spot43 is a media company we've got the inside scoop on, and you won't want to ignore this blog. One day Spot43 will be a known brand by all marketers and agencies, but because you read this little blog, you can say, "Hey, I've been watching them!" They're fantastic, and they're offering a new hyper-local marketing solution never provided before.
"From my perspective as a Media Buyer, I see Spot43 as part TV advertising, part Out of Home. They brought the ability to advertise in restaurants, bars, and local hot spots in a highly visible, big-impact way that knocks the socks of the old school bathroom stall fliers and logos on coasters." – Robin Rucinsky, President and Media Director, Thrive Advertising
Spot43 gives marketers direct access to the big screens in trendy venues that are front and center with live sports and more. Their CPMs are competitive, and the Share of Voice is excellent.
Former Google Exec Launches Spot43 Media Company
We had the opportunity to sit down with the founder of Spot43, Jason Parekh, last week, and we can confidently tell you that we expect big things from this visionary martech entrepreneur. He's someone to watch and, honestly, someone to befriend because he's got a plethora of experiences that we can all learn from. Jason's the type of person you meet for coffee and end up sitting with for way longer than planned because you can't stop picking his brain.
So you heard it here first. We time-stamped this blog to prove we're media buyers with our ear to the ground. Spot43 is a media company to watch, shaking things up in the Out of Home space and leading innovation in the marketing space. For those of you who call us asking how to advertise to the high-income tech professionals at Google, Microsoft, Amazon, and Facebook, this is one of our go-to platforms. We've got some other media solutions up our sleeve for reaching this coveted demo, so give us a shout to discuss your media planning strategy.
Our existence is to help business owners, and marketers make better advertising investments at no additional cost to their budget.  We love answering questions like, "Is billboard advertising effective in 2020?" Providing information and knowledge is our passion. Want to know billboard advertising cost or billboard advertising effectiveness? We're your team. We'll tell you when a media makes sense and when it doesn't. This post's purpose was to inform you about a new media option that is awesome all around. It's also top of mind because the Seattle Eastside market, particularly, has minimal billboard inventory because of city zoning restrictions, leading advertisers to seek alternative Out of Home marketing solutions. Spot43 meets that need.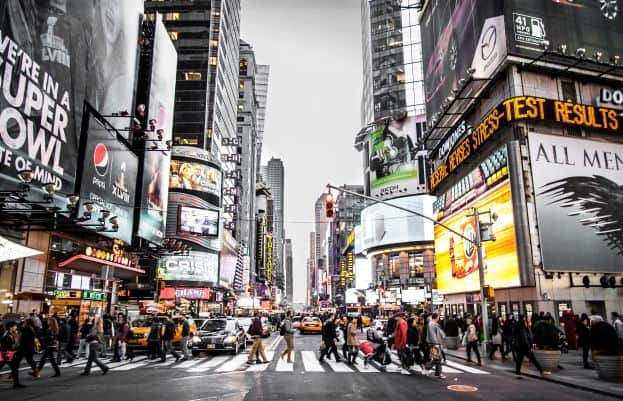 Want to know more about marketing to an affluent tech audience? Check out these blogs we've written.
How to Advertise to Microsoft Employees
How to Reach an Affluent Audience with Your Marketing
Reach More Qualified Customers in 2020 with Smarter Marketing